The Great Invocation is a World Prayer and an Invocation asking that the Threefold Potency of God will have a greater effect on our lives on this Earth.
Like the Lord's Prayer, this invocation is a World Prayer which is as all that a prayer is intended to be. It is a prayer for the uplifting of the Human Family out of the mire of materialism and selfishness. The Lord's Prayer asks nothing for the individual praying it but asks that its benefits be for US and for WE which is why it was given by the Christ as a prayer and as a model over 2000 years ago. This invocation is also attributed to the Christ who, as He promised, has never left us; He, through channels that we do not readily understand, has Himself instructed His disciples to distribute this prayer and to encourage its use as a world prayer and as an aid in preparing the world for His return.
 The first three stanzas of this prayer should be understood as reflecting the effective potencies of the Trinity which is God and which, when brought down to an individual level, the Trinity which is Man. His Will, His Love and His Light we should seen as the Potent Powers of the Father, the Son and the Holy Spirit. 
For more discussion on this please see our posts: In the Words of Jesus parts 128-132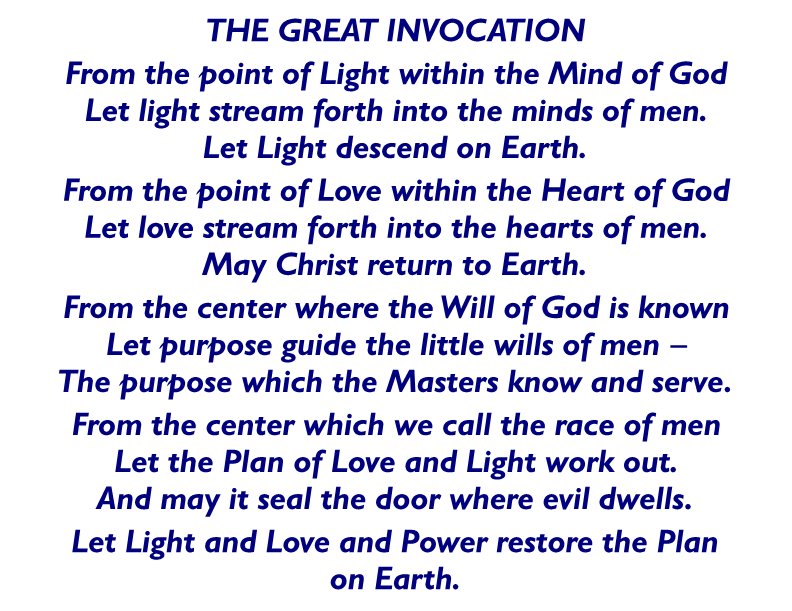 "The above Invocation or Prayer does not belong to any person or group but to all Humanity. The beauty and the strength of this Invocation lies in its simplicity, and in its expression of certain central truths which all men, innately and normally, accept—the truth of the existence of a basic Intelligence to Whom we vaguely give the name of God; the truth that behind all outer seeming, the motivating power of the universe is Love; the truth that a great Individuality came to earth, called by Christians, the Christ, and embodied that love so that we could understand; the truth that both love and intelligence are effects of what is called the Will of God; and finally the self-evident truth that only through humanity itself can the Divine Plan work out."
Alice A. Bailey